Pro writing app for Mac.
Nota is a writing app that stands out with a radical focus on simplicity and productivity. It's designed to enable a wide range of uses: from notes and lists, to knowledge bases and wikis, to journals and books, to product docs and static sites. It works with local Markdown files for maximum privacy and complete data ownership. No accounts, no tracking, no vendor lock-in.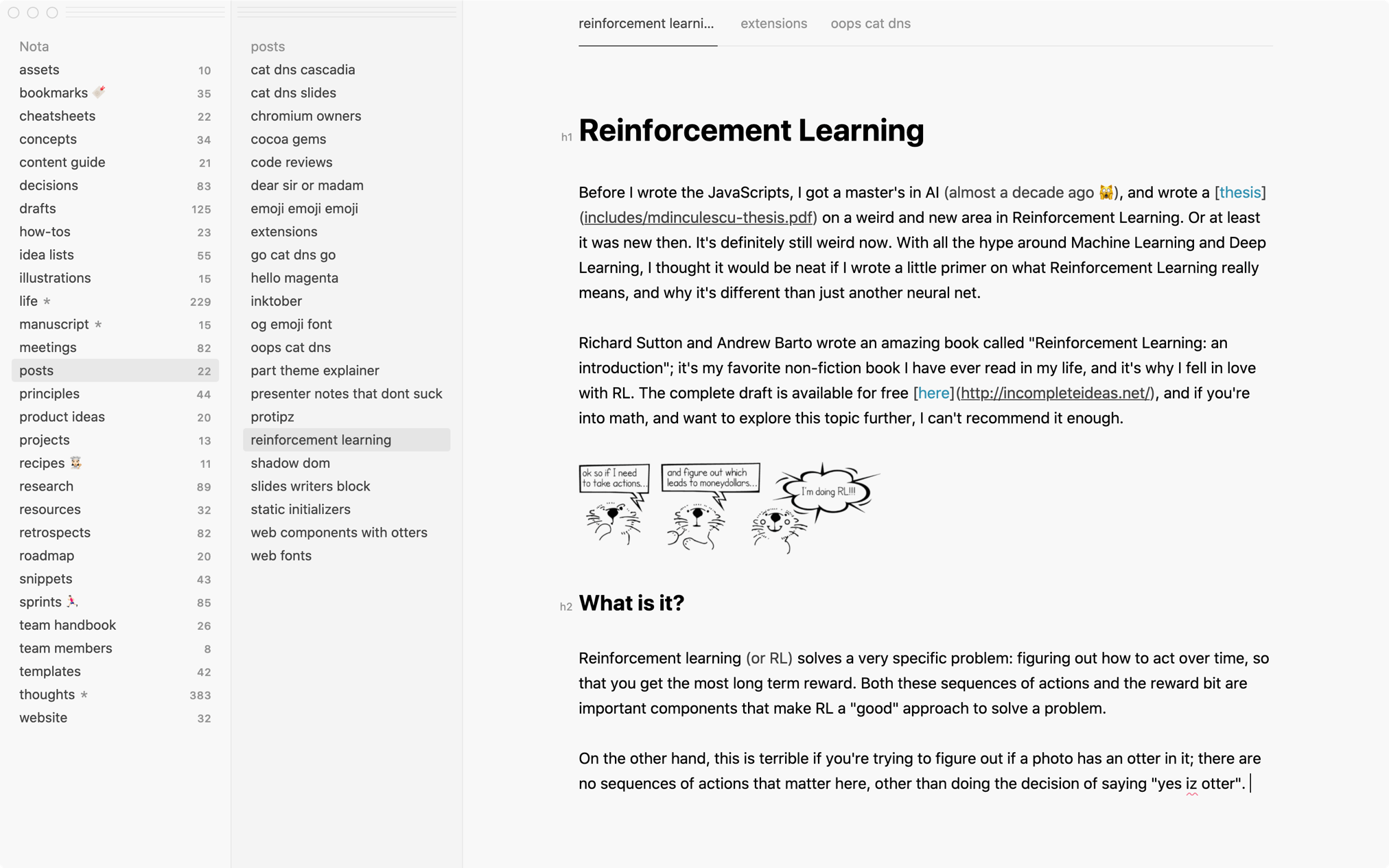 Beautiful editor with superpowers.
The text editor in Nota combines the familiar editing experience of a notes app with powerful productivity features like multiple selections and expand selection that professional code editors have had for years.
inline previews

for images and math expressions

auto-completions

for emoji, file paths, html tags and other special phra|ses

spelling suggestions

⌃ space to see spelling suggestions for misspelled wordz

paste images

copy an image (ex: from a website) and paste it in the editor

paste rich text

⇧ ⌘ V to paste rich text and keep the formatting (as Markdown)

copy as

⇧ ⌘ c or ⌥ ⌘ c to copy selected text as rich text or html

multiple selections

make ten| edits at the same time, not one edit ten| times

expand selection

⌘ e to expand selection to the next scope and ⌘ u to shrink it

line commands

move line up/down, duplicate line up/down, insert line above/below

typography options

quickly find and set any font installed on your device

true plain-text

no re-formatting on open, no format conversion on copy

great performance

instant typing, fast file opening, smooth scrolling
A faster way to do just about anything.
Nota features quick dialogs (similar to Spotlight) that help you move between files, headings and command as you wish. Simply hit a shortcut to open the right dialog, and blast off to whichever destination you desire.
Powerful all around.
Nota has all the features you'd expect from a writing app. Whether you come from a notes app or a code editor, Nota should feel familiar and productive.
file manager

browse and manage the files and folders in your workspace

tabs

easily switch between the files you're working on

global hotkey

⌃ ⌘ o (as in nota) to bring the app to focus from any context

gestures

swipe left or right to hide or show the file manager

dark mode

the app theme matches the system preference for dark mode

print and export

put your words on paper or in beautiful PDF documents

command bar

⇧ ⌘ p to access any command without leaving the keyboard

quick open

⌘ p to go to any file (in your workspace) in a few keystrokes

quick move

⇧ ⌘ m to move the current file to any folder in seconds

go to last edit

⇧ ⌘ ⌫ to go to the file (or part of text) that you last edited

auto-fix paths

on rename file the app looks for links to it and offers to fix them

command-line integration

select Nota › Install Command-Line Tool... to install nota cli
No vendor lock-in.
The documents that you create in Nota are regular Markdown files that you can keep in Dropbox, manage in Finder, search with Spotlight and open with any app that works with plain-text files — desktop or mobile, now or 50 years from now. We can't lose them or limit your access to them because they are not on our computers, they are on yours, and that's how it should be.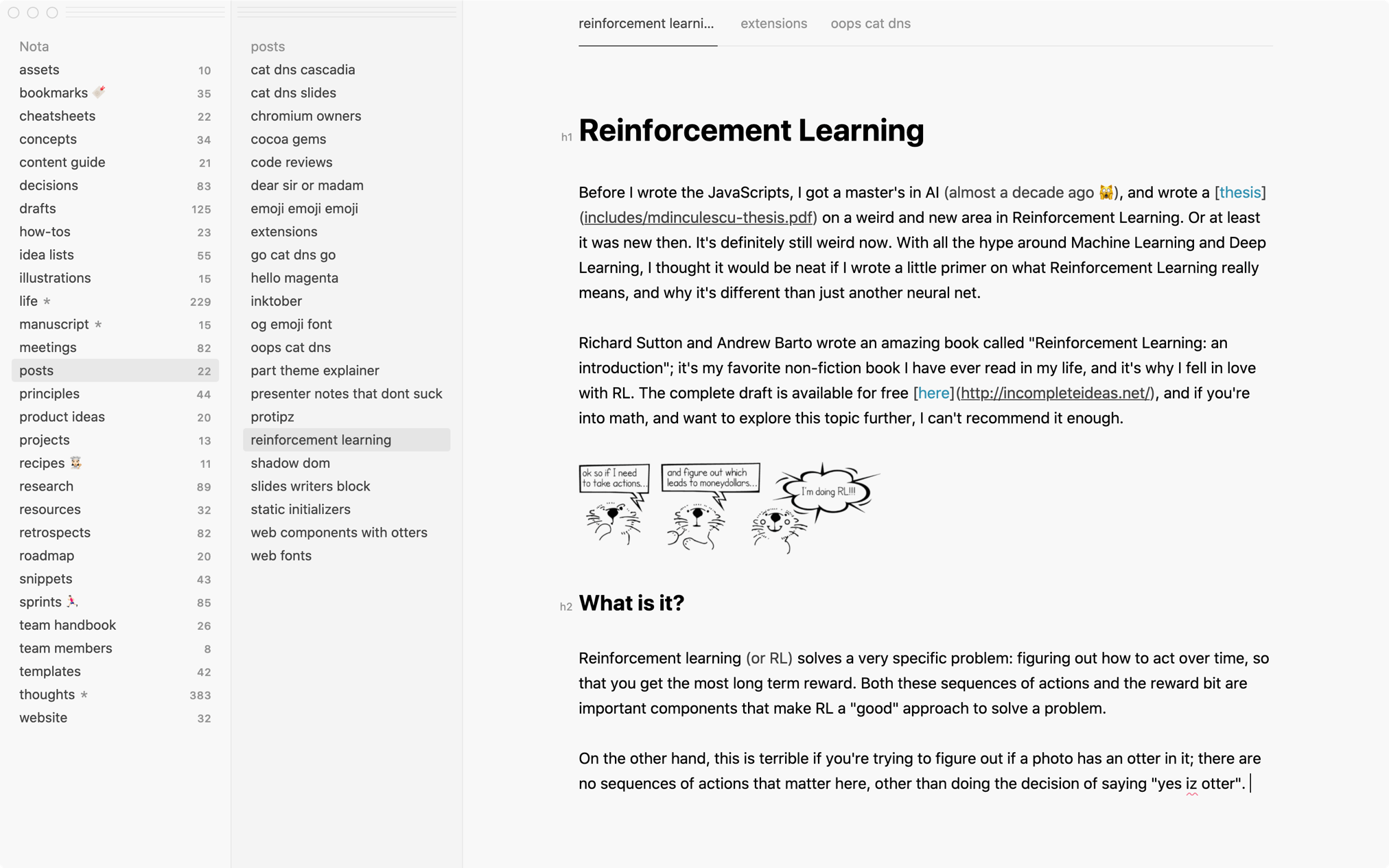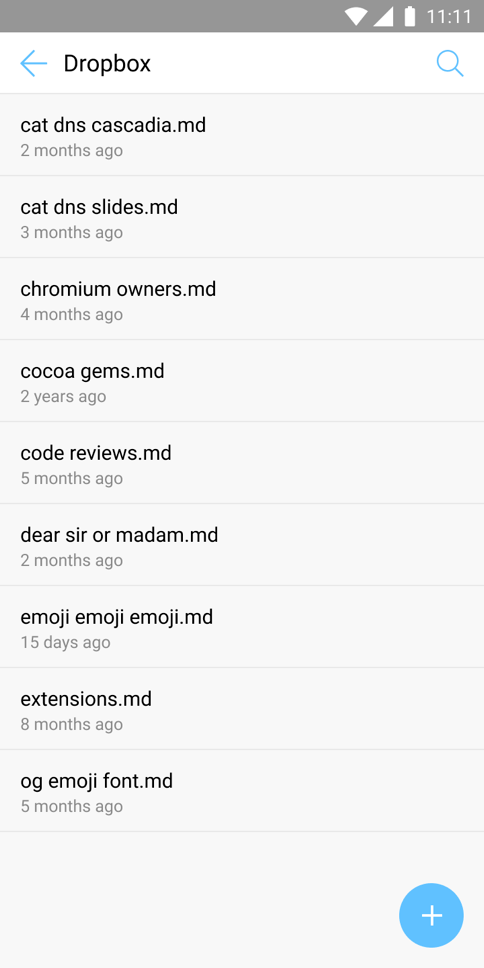 We're also working on...
Here are some of the major feature on our roadmap. Some of these are already available as "experimental features" — press ⌥ ⌘ e to see the available experimental features and enable the ones you're interested in.
extensions

add functionality to Nota with extensions (JavaScript)

git integration

world-class version control and collaboration

better search

that handles spelling mistakes and does a better job at sorting results

option to hide markup

in case you prefer not to see * and other markers in the editor

better editor

for lists, tasks, math and code blocks, markup assistance

backlinks

see the documents that link to the current document
Want to try it?
We are sending an early version of Nota to people who want to try it. To get on the list, fill out this short form.